We are instrumental in eot crane manufacturer offering floor or column mounting Cranes EOT Cranes, Jib Cranes that are designed in accordance with industry standards & norms, using premium raw material.
Our cranes are known for their quality features like easy operation, reliability, excellent performance and corrosion & abrasion resistance.
Our Designed & Manufactured Eot Cranes are Available at industry leading prices, our range can be customized as per the specifications detailed by the clients.
We Prabhat Engineering is the leading Single Girder EOT crane manufacturer in Maharashtra and all india,
Single Girder EOT Cranes are used for light to medium duty handling requirements, Lifting and shifting of loads, Vehicle Loading and Unloading can be the purpose for installing these cranes.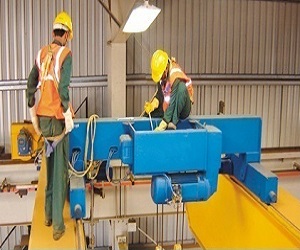 EOT Crane Repairing
we are providing technically Eot Crane repair service provides advanced Crane Maintenance Services to the customers. These services are widely recommended for their timely execution and longer service life. Customers like our services for their execution as per their needs and specifications and at industry leading prices. Moreover, we have hired experts for maintenance using latest tools and techniques. crane repair service in mumbai, jib crane manufacturer in pune,  jib manufacturer in pune
we repairs and maintenance of eot cranes and industrial material lifts. maintaining & repairing cranes parts Our trained and experienced team is at for service contact us if you have any requirements. Our crane experts apply a systematic Risk and Recommendation Method of evaluation and a consultative planning and review process to drive continuous improvement in safety and productivity.INSPECTIONS & PREVENTIVE MAINTENANCE identify risks and improvement opportunities, and support compliance with regulations and standards. eot crane repair vasai
We only service this types of crane Eot Crane| Wall Mounting Crane  | Jib Crane | Material Handling Equipment | Industrial Lift in Mumbai & all Maharashtra. repair
Specification
| | |
| --- | --- |
| Type of Crane | Overhead Crane, Mobile Crane |
| Service Type | Repairing Only, Replacing Damaged Parts |
| Type of Service | Hydraulic Maintenance, Wheels/Tire Inspection, Lubrication, Electrical Repair, Motor Maintenance |
| Delivery Locations/City | India |
| Power Source | Electric |
| After Repair Warranty | 9-12 Month |
---
EOT Crane
we are pioneer of eot crane fabrication, manufacturer in pune, mumbai, ambernath, eot crane fabrication, 
We are manufacturer of EOT ( Electric Overhead Travel ) Crane, Jib Crane, Single Girder, Double Girder crane we have experience of 22 years in this field, Our organisation has gained immense accolades in providing Multiple Girder EOT Crane to our clients from all over the country. It operates in highly efficient manner and makes use of various fixing arrangements in quite an effective manner. Single Girder EOT Crane has been manufactured in synchronisation with latest industry standards and this is constructed with the use of best grade material purchased from our topmost market vendors. since 1996 we have installed many cranes to our clients in mumbai & pune we are one of the best manufacturer in mumbai & pune.
We also manufacture manual Hand Operated cranes for lower load lifting use, and chain pulley manual hand operated material lifting crane after installation we always available for repair & maintenance for eot crane. eot crane manufacturer in mumbai & pune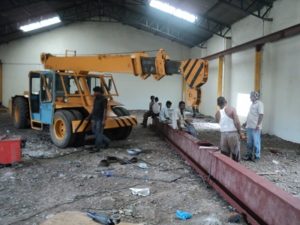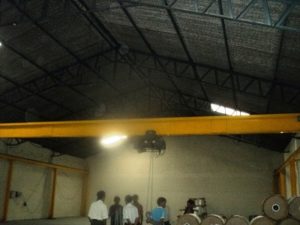 our single girder eot crane design structure consists of crane main beam, end beams, i beams  electrical system and wire rope electric hoist as lifting mechanism. specification: light level working system; include two structural types monorail crane and under swing crane. Generally use remote control operation, which is convenient and practical, safe and stable, help improving your plant production efficiency. manufacturer in ambernath
Stability:
The EOT cranes are made & fabricate with the high range, so that its stability should be maintained for a long term basis. Due to its stability this crane is able to carry the heavy weights easily. It is made from the steel material so that there is no chance of damages in the crane. eot crane manufacturer in ambernath
Superlative Floor Indemnity:
As we know that these cranes are helpful for to cover longer distances, it is easy to carry the loads from one end and can place it to the other end of the place that mach capability is in the EOT cranes. Due to this the carrying work gets easier without any interruption.
Clear and Impressive to Handle:
There is no hurdle arises to carry the loads as because EOT cranes easily and clearly finishes its work without any complications. These cranes having the power full hook so that goods or liquids are perfectly handled. So, that wastage of industries gets minimized.
Cost Controllable:
As one EOT crane can do the work of several conventional cranes its profitability to the many industries. Due to these crane wastage gets reduced, so automatically cost gets reduced. And these cranes are reliable for many companies because of its low price and strong durability. Electricity is also consumed in a less unit by this crane.
---
Jib Cranes
we are best jib crane manufacturers in mumbai, chennai, pune, ahmedabad, 
We have become one of the preferred choices of our clients by providing them a comprehensive range of Cranes, which is known for its easy operations, durability, corrosion & abrasion resistance and sturdy construction. Jib Crane is widely used in different engineering industries, ports, granite, open yard, storage places, container deputes, steel yards, cement pipe industries and shipyards. Moreover, our range can be customised as per the specifications detailed by the clients to meet their needs. jib crane manufacturers in mumbai, chennai, pune, ahmedabad, 
A jib crane is a type of crane where a horizontal member (jib or boom), supporting a movable hoist, is fixed to a wall or to a floor-mounted pillar. Jib cranes are used in industrial premises and on military vehicles. The jib may swing through an arc, to give additional lateral movement, or be fixed. Similar cranes, often known simply as hoists, were fitted on the top floor of warehouse buildings to enable goods to be lifted to all floors.
specification confirming as per IS-807 and IS-3177. Slewing Jib Cranes is perhaps one of the most multipurpose pieces of Lifting Equipment. It supports Overhead Cranes on production lines and keeps workstations, machining cells and warehouses in operation.
Being easy to install and having less structural limitations than many other material handling equipment,
Pillar Mounted Jib Cranes
are used widely in all customer segments, from small workshops to assembly lines, harbors and even nuclear plants.
Features:
Plates: M.S. Gusset Plates / Thick Base Plates give added rigidity to column.
Mast: is fabricated from Pipe / Rolled Steel section.
JIB Arm: is fabricated from heavy section I-Beam and triangular truss construction / Plate fabrication.
Bearing: Double Roller self aligned thrust roller bearing to take care of horizontal and vertical loading as well as radial thrust.
Swiveling: Through chain at end of JIB Arm or Electric (if required)
Swiveling Boom: Available with 900, 1800 and 3600.
---