We fabricate and install metal roof sheeting that ensures your factory roof, terrace roof, and bungalow roof stands up in almost any climate condition and looks great. we use the right material type, profile and colour choice for your factory, building, offices, commercial or industrial premises.
Terrace Shed
When it comes to creating a beautiful and functional terrace, the right roofing shed plays a crucial role. If you're searching for a trusted terrace roofing shed manufacturer in Mumbai, you've come to the right place. We specialize in crafting premium-quality terrace roofing sheds that not only protect your outdoor space from the elements but also enhance its appeal. Our terrace roofing sheds are designed to withstand diverse weather conditions, providing excellent protection from rain, harsh sunlight, wind, and other elements. With our sheds, you can enjoy your terrace year-round, regardless of the weather.
Why Choose Our Terrace Roofing Sheds Fabrication Services?
Exceptional Quality: Our terrace roofing sheds are manufactured using top-grade materials, ensuring durability and long-lasting performance. We understand the importance of quality craftsmanship and strive to deliver products that exceed expectations.
Customized Solutions: Every terrace is unique, and we believe in providing tailored solutions that suit your specific requirements. Our team of experts works closely with you to design and build a terrace roofing shed that complements your space, offering both functionality and aesthetic appeal.
Versatility and Style: We offer a wide range of design options and styles to suit various architectural preferences. Whether you prefer a modern, minimalist look or a more traditional design, our terrace roofing sheds can be customized to match your desired style.
Weather Resistance: Our terrace roofing sheds are designed to withstand diverse weather conditions, providing excellent protection from rain, harsh sunlight, wind, and other elements. With our sheds, you can enjoy your terrace year-round, regardless of the weather.
Durability and Low Maintenance: Our roofing sheds are built to last. We use materials that are resistant to corrosion, rust, and fading, ensuring their longevity. Additionally, our products require minimal maintenance, saving you time and effort in the long run.
Expert Installation: Our experienced team of professionals handles the installation process with precision and efficiency. We are reliable terrace shed Manufacturer in Mumbai, we understand the importance of a proper installation for the optimal performance of your terrace roofing shed, and we ensure every detail is taken care of.
Prabhat Terrace Shed Specification:
Excellent performance
Sturdy construction
Accurate dimensions
Waterproof
Flawless finish
High quality
Heat resistance
Colour – Blue, Green, Grey, White
Elevate your terrace's functionality and aesthetics with our terrace shed fabrication services. From custom designs to high-quality materials and expert craftsmanship, we offer tailored solutions to meet your specific requirements. Contact us today to discuss your terrace shed fabrication needs and let us create a durable, stylish, and functional shed that enhances your outdoor space.
---
MS Factory Shed Fabrication
If you're in need of a durable and efficient MS factory shed, our custom fabrication services are the ideal solution. We specialize in designing and fabricating high-quality MS factory sheds in Mumbai that are built to withstand the demands of industrial environments. With our expertise, you can optimize your factory space while ensuring maximum functionality and productivity. When it comes to factory roofing shed specifications and materials, several factors need to be considered based on the specific requirements of your industrial facility.
Here are some common specifications and materials used in factory roofing sheds:
Roofing Materials:

Metal Roofing: Metal roofing sheets are a popular choice for factory roofing sheds due to their durability, longevity, and ability to withstand harsh weather conditions. Common metal options include galvanized steel, aluminum, or corrugated metal sheets.
Fiber Cement Sheets: Fiber cement sheets are known for their excellent resistance to fire, moisture, and pests. They are lightweight, cost-effective, and provide good thermal insulation.

Structure and Framework:

Steel: Steel is widely used in the construction of factory roofing shed due to its strength, durability, and ability to support large spans. It provides structural stability and can withstand heavy loads and strong winds.
Aluminum: Aluminum is a lightweight material that offers corrosion resistance and is suitable for areas with high humidity or corrosive environments.

Insulation:

Thermal Insulation: To regulate the temperature within the factory, thermal insulation materials such as fiberglass, polystyrene, or polyurethane foam can be incorporated. These materials help reduce heat transfer, maintain a comfortable working environment, and potentially lower energy costs.
Sound Insulation: In industrial settings where noise levels need to be controlled, acoustic insulation materials like mineral wool or sound-absorbing panels can be installed to minimize noise transmission.

Lighting and Ventilation:

Skylights: Installing skylights on the factory roofing shed allows natural light to enter the space, reducing the need for artificial lighting during the day and creating a more pleasant working environment.
Ventilation Systems: Adequate ventilation is crucial in factory settings to maintain air quality, regulate temperature, and remove fumes. Roof vents, ridge vents, or exhaust fans can be integrated into the roofing shed design to facilitate proper airflow.

Customization:

Size and Design: Factory roofing sheds can be custom-designed to fit the specific dimensions and layout of your industrial facility. This ensures optimal utilization of space and seamless integration with existing structures.
Additional Features: Depending on your requirements, you can incorporate features like gutter systems for proper rainwater drainage, access doors, windows, or even mezzanine floors for additional storage or workspace.
Why Choose Our MS Factory Shed Fabrication Services?
Customized Solutions: We understand that every factory has unique requirements. Our MS factory shed fabrication services offer customized solutions tailored to your specific needs. Our team works closely with you to understand your space constraints, workflow, and storage requirements, ensuring that your shed is designed and fabricated to maximize efficiency.
High-Quality Materials: We believe in using top-quality MS (Mild Steel) materials for our factory shed fabrication. MS is known for its durability and strength, making it ideal for industrial applications. Our materials are sourced from reputable suppliers, guaranteeing the highest standards of quality for your factory shed.
Expert Craftsmanship: Our skilled craftsmen have extensive experience in MS factory shed fabrication. They meticulously construct each shed, paying attention to every detail to ensure superior craftsmanship. We pride ourselves on delivering reliable and robust structures that can withstand heavy loads, harsh weather conditions, and the daily rigors of an industrial setting.
Space Optimization: We understand the importance of efficient space utilization in a factory. Our MS factory sheds are designed to maximize your available space, providing ample storage capacity and allowing smooth workflow operations. By optimizing your factory layout with our custom sheds, you can enhance productivity and streamline your operations.
Structural Integrity: Safety is paramount in industrial settings. Our MS factory sheds are engineered to prioritize structural integrity. We adhere to industry standards and employ advanced fabrication techniques to ensure that your shed meets all safety regulations. You can have peace of mind knowing that your workers and equipment are protected within a robust and secure structure.
Timely Delivery: We recognize the importance of meeting project deadlines. Our team works efficiently to fabricate and deliver your MS factory shed within the agreed-upon timeframe. We value your time and aim to provide prompt and reliable services without compromising on the quality of our work.
---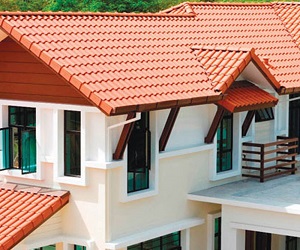 Bungalow Roofing
bungalow roofing fabrication in mumbai and pune, roof tiles, sheet in maharashtra
Bungalow roofing sheets this can work with almost any style of home. It comes in all kinds of colors and styles, is low maintenance and very durable. Once again, it can be expensive on the front end of things but that cost is offset by the durability and lifespan. Metal roof systems typically have longer warranties, are fire retardant, are light weight and easy to install, and are resistant to insects and rot. for bungalow roofing we have brought a wide assortment of Housing Tiles Roofing Sheet. These products are manufactured making use of optimum-quality material in complete conformity with pre-set quality values. These can be also altered by deft professionals in a range of provisions. bungalow roofing fabrication in mumbai
Specification
Pattern: Profile
Material: Asbestos Cement
Weight: 2.75 Kg
Surface treatment: Color coated
Thickness: 200 Square Meter
Color : Blue, Green, Grey, White
we at Prabhat Engineering construct bungalow tile roofing sheets that can be used in the construction of your manufacturing sites. Our industrial sheets are of premium quality that can take extreme heat and keep your manufacturing site away from any kind of damage.
we are top bungalow roofing fabricators in Mumbai offering a best roofing quality of our service. Roofing shed fabricators, and Roofing solutions services providing to customers. Customers are like roofing fabricators, Roofing solutions. We will so far best services of roofing contractors in Chennai, and best services offers for clients. Our work will be complete and special. call now + 91 9869563115 for site visit & estimates.
---